Buying and Selling Gold
Buying and Selling Gold
Never has there been a better opportunity to cash in today's rising costs. Why trust a mailed envelope or someone doing business at a hotel?
Gold is currently trading at 25 year highs! When you sell scrap gold or other precious metals such as platinum and sterling silver to Lewisburg Diamond and Gold, you will get more cash for your metals than a pawn shop.
Do you have any Scrap Gold to sell in Lewisburg, WV? A diamond ring that you are looking to sell or trade in? Get cash for your gold and diamonds today! Lewisburg Diamond and Gold has paid the highest prices for gold, diamonds, fine watches and gold jewelry. Sell Gold in West Virginia Today!
We buy certified diamonds and diamond engagement rings. We also buy Broken Gold Jewelry, Used Gold Jewelry, Estate Jewelry, Gold and Silver Coins, Gold & Silver Buillion Bars.
Contact us today about getting the highest price for your diamonds, gold, Sterling Silver or platinum jewelry, scrap, rings, bracelets, chains, earrings, coins, castings and other precious metal items you want to turn into cash!
#1 Gold Buyer in West Viriginia
We buy and sell gold in West Virginia. We are glad to answer questions about buying and selling gold bars and gold coins. All the bullion gold prices that you see on this site are legitimate offers to buy and sell gold buillion in its various forms. And when you do business with us, the most current gold spot is always our pricing basis.
We pay the highest price for unwanted gold jewelry in the industry. We're ready to buy! Sell gold in West Viriginia Today!
The chart below reflects the live price of gold at this very minute.

Please refresh the page to update the live price of gold in real time.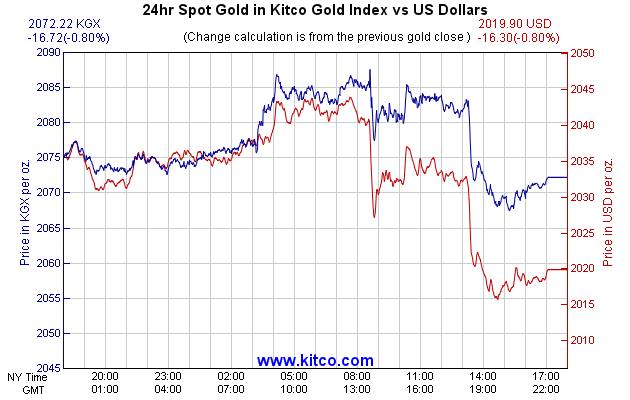 Source:www.kitco.com
We Also Buy:
Jewelry

Diamonds

Gemstones

Gold Jewelry

Silver Jewelry

Platinum Jewelry

Fine Jewelry

Rolex Watches

Rare Watches

US Silver Coins

90% Sivler & Silver Dollars

Certified Coins and Mint Sets

Commemoratives

Morgan Dollars

Peace Dollars

Bust Dollars

Seated Liberty Dollars

US Gold Coins

$1.00 Gold Piece

$2.50 Liberty and Indian

$3.00 Princess Gold Coins

$5.00 Liberty and Indian

$10.00 Liberty and Indian

$20.00 Liberty and Saint Gaudens